Lawrence Block's
Sinner Man
was a doozy. Supposedly lost in the abyss of the book publishing world for 50 years, Block's people found this and it was just recently published. Block provides a great afterward of trying to find his own lost treasure.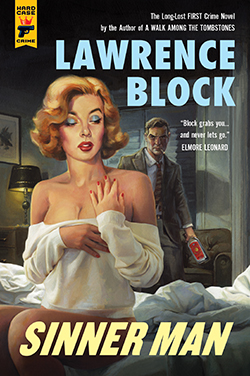 It's dark, violent noir and classic Hard Case Crime. I can't say I didn't see the end twist coming but it was still fantastic.
From Amazon
:
To escape punishment for a murder he didn't mean to commit, insurance man Don Barshter has to take on a new identity: Nathaniel Crowley, ferocious up-and-comer in the New York mob. But can he find safety in the skin of another man...a worse man...a sinner man...?
Amazonians give it a 4.4. Goodreaders at 3.7 of 5. It's definitely one of the better books I've read in a while, tipping the scales at an 7+ on the 10-point Haugenometer.