Daniel Silva rocks it in his latest book,
Black Widow
. I've read about 10 of Silva's 16 Gabriel Allon books and he's done a great job of keeping my attention, which is not an easy thing to do.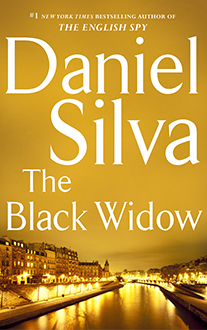 Did you know Farrah Fawcett died about 20 minutes before Michael Jackson? Loved her poster.
Oh, wait, as I was saying …
As a former Middle East correspondent for UPI, who lived in Cairo, Silva has a unique grasp of the region and timely insight into various governments and terrorist groups. He seems well sourced and intelligent. This book tackles the ISIS situation. His main character, Allon, is in Jack Reacher territory, when it comes to my favorite protagonists in a series. He's deep, dark, unflinching.
I really liked this one. A page-turner, realistic, timely.
Legendary spy and art restorer Gabriel Allon is poised to become the chief of Israel's secret intelligence service. But on the eve of his promotion, events conspire to lure him into the field for one final operation. ISIS has detonated a massive bomb in the Marais district of Paris, and a desperate French government wants Gabriel to eliminate the man responsible before he can strike again.
They call him Saladin . . .
He is a terrorist mastermind whose ambition is as grandiose as his nom de guerre, a man so elusive that even his nationality is not known. Shielded by sophisticated encryption software, his network communicates in total secrecy, leaving the West blind to his planning—and leaving Gabriel no choice but to insert an agent into the most dangerous terrorist group the world has ever known. She is an extraordinary young doctor, as brave as she is beautiful. At Gabriel's behest, she will pose as an ISIS recruit in waiting, a ticking time bomb, a black widow out for blood.
I also enjoy his "afterwards" to the book, where he details some of his research and stories behind the story. Like when he met former Mossad director Meir Dagan, who suggested that when the books become movies they cast somebody taller in his role.
Goodreaders give it a 4.3 out of 5, while Barnes & Schnable gives it a 4.4 of 5. It hit a 7- on the Haugenometer of 10.