I felt like a bit of an idiot for not having heard of this
Harlan Coben
dude. Considering he's won all the big mystery awards (Edgar, Shamus, Anthony), and that he's written close to 30 novels, including best-sellers, and that his main character is a sports agent, it seems like the kind of thing I'd have heard of before running across him just recently (I don't remember how).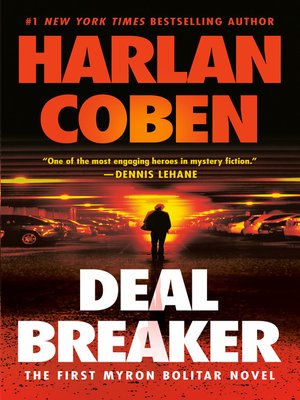 So I figured I'd start with the first book in his "critically acclaimed" Myron Bolitar series,
Deal Breaker
. While keeping in mind my general rule that an author's first novel isn't usually his best, expecting that they get better as he perfects his craft, I was still disappointed.
I like the character, Myron, the sports agent, and I like where the plot goes in that his star client is in trouble and he tries to help him, but it was a struggle to get through.
From Amazon: Sports agent Myron Bolitar is poised on the edge of the big time. So is Christian Steele, a rookie quarterback and Myron's prized client. But when Christian gets a phone call from a former girlfriend—a woman who everyone, including the police, believes is dead—the deal starts to go sour. Trying to unravel the truth about a family's tragedy, a woman's secret, and a man's lies, Myron is up against the dark side of his business—where image and talent make you rich, but the truth can get you killed.
I'm not a guy who likes a ton of characters in a novel. I'm a simple man. Keep it simple. Coben had a ton of characters I had trouble keeping track of (never end a sentence with a preposition). At times, the dialogue was amateurish.
However, his surprise ending got me. I pride myself on seeing those coming, but his twist whacked me along side the head and left me humbled. And it wasn't too far-fetched, as some do, where you go: "There's no way a guy could've figured that out."
Still, I gave it my lowest rating of 2015, a 6-minus on the Haugenometer. I don't even give 5s, because I usually quit the book before it gets to that point (which seldom happens and hurts my heart when it does). Still, I'm not giving up Coben and owe him a second chance. So I'll pick one of his mid-series books. He also has a young adult series, so I might pick one up for Junior as it seems like something he might like.
Goodreads and Amazon readers give him a 3.9 of 5, so I'm not far off in my rating, just a little lower.
In the meantime, I've moved on to Truman Capote's 1965 true-crime novel "In Cold Blood" and hoping for a good palette-cleanser.