Several people have recommended Michael Connelly books to me, so I picked one up at BAM the other day and enjoyed it enough to grab another.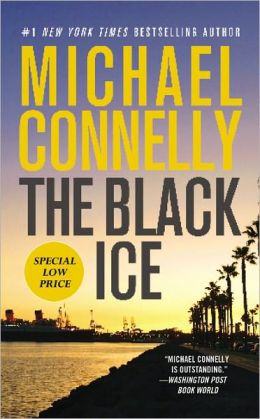 This one was
The Black Ice
(A Harry Bosch novel).
Narcotics officer Cal Moore's orders were to look into the city's latest drug killing. Instead, he ends up in a motel room with a fatal bullet wound to the head and a suicide note stuffed in his back pocket. Working the case, LAPD detective Harry Bosch is reminded of the primal police rule he learned long ago: Don't look for the facts, but the glue that holds them together. Soon Harry's making some very dangerous connections, starting with a dead cop and leading to a bloody string of murders that wind from Hollywood Boulevard to the back alleys south of the border. Now this battle-scarred veteran will find himself in the center of a complex and deadly game-one in which he may be the next and likeliest victim.
This is a very politically incorrect book, in fact I'm surprised it hasn't been banned from libraries by the PC police. It's Harry Bosch, the main character, and I'm afraid to break it to you but he's, umm, a smoker! Chain.
One odd thing about the book is that it ended without me really having any idea what Harry looks like. Maybe he's described in earlier books, but mind's eye hadn't even formed a general image of him. It also had a couple twists and turns I didn't see coming, but they were so unlikely and unrealistic that I don't hold it against myself. And I don't hold it against the author either, heck it's fiction, he can have martians land in the last page as far as I'm concerned. And not to ruin it for you, but no martians.
I gave it a 6+ in my 10-point rating system, not great, not bad, just okay. It's a 3.98 out of 5 over at
Goodreads
.